---
NCTB বাংলা ব্যকরণ ও নির্মিতি (Bangla Byakoron) Book | Class Eight (অষ্টম শ্রেণি) 2023 বই | PDF Download
Updated: 31st July, 2023
---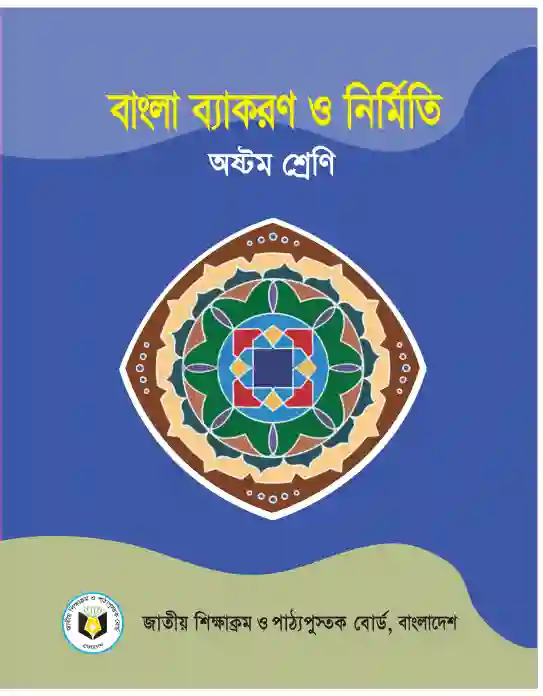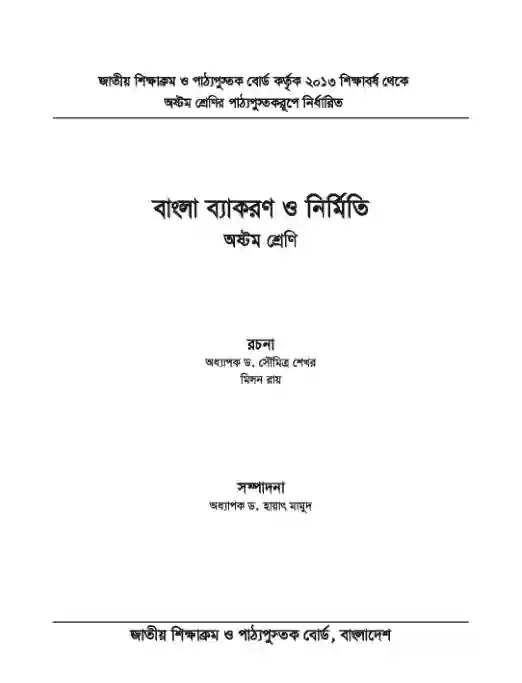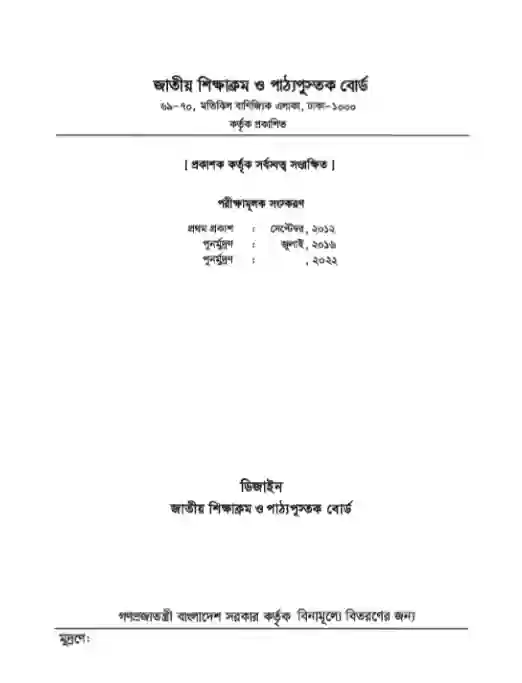 NCTB বাংলা ব্যকরণ ও নির্মিতি Textbook for Class Eight (অষ্টম শ্রেণি) by NCTB
The National Curriculum and Textbook Board (NCTB) of Bangladesh has published the textbook for Class Eight students in 2013. This textbook focuses on the study of Bengali grammar and composition. It has been authored by renowned educator Sumitro Shashi Mimoon and edited by Khayang Momad of the NCTB.
Table of Contents:
Introduction to Language

Language and its Importance
Mother Language and National Language
Types and Features of Languages
Structure of Language
Language and Society

Sounds and Letters

Vowels and Consonants
Pronunciation and Articulation
Special Sounds in Bangla
Writing the Bangla Alphabet

Words and Vocabulary

Word Formation
Parts of Speech
Noun and its Types
Verb and its Types
Adjective and its Types
Adverb and its Types
Prepositions and their Uses
Conjunctions and their Types
Interjections and their Types

Sentence and Its Structure

Subject and Predicate
Types of Sentences
Sentence Structure
Simple and Compound Sentences
Sentence Transformation

Punctuation and Style

Proper Punctuation
Capitalization Rules
Sentence Style and Structure
Paragraph Writing
Composition Writing

Figures of Speech

Simile and Metaphor
Personification
Hyperbole
Irony and Sarcasm
Alliteration and Onomatopoeia
Oxymoron and Paradox

Rhetoric and Communication

Effective Communication
Public Speaking Techniques
Presentation Skills
Persuasive Writing
Debating Skills
Interpersonal Communication

Language in Literature

Literary Devices and Techniques
Elements of Poetry, Prose, and Drama
Literary Analysis and Interpretation
Appreciation of Bengali Literature
This NCTB textbook is an essential resource for Class Eight students studying Bengali grammar and composition. It provides comprehensive knowledge and understanding of the language, helping students improve their writing and communication skills.